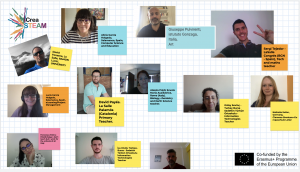 Due to COVID-19 situation, the teacher training was held online on the 14 and 21 of May. The training was focused on skills and competences to define the action plan for schools with different socio-cultural background students.
The objectives of the first phase training was:
Define what a STEAM-Lab is, related contents, methodologies, and results.
First approach to STEAM-Lab tools.
Contextualize STEAM-Labs in each participating school.
Ideate STEAM-Labs in each participating school: proposal of the STEAM-Lab distribution, tools, organization, management, pedagogical practices, ecosystem.
Show Didactic Unit's template.
Collect interest in learning tools.