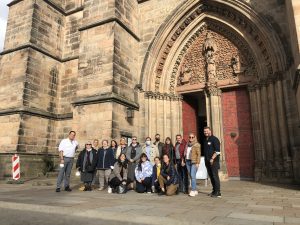 The project, which started in October 2020, has been developed entirely online due to Covid-19. The first year we were focused on defining the STEAM-Lab concept and how to implement it in schools. STEAM-Labs propose a combination of Medialab, Fab-lab and Userlab adapted to the possibilities of secondary schools, seeking to create a space that allows the promotion of STEM (Science, Technology, Engineering and Mathematics) vocations while working to promote diversity and inclusion in these areas.
The meeting has allowed knowing how the schools are preparing the STEAM-Lab, as well as to define the next steps to implement projects within the STEAM-Lab and integrated with the subjects of the secondary education courses during the academic year 2021-2022. Currently, the pilots will be carried out in four schools of the Federazione Istituti Di Attività Educative (Italy), three schools in Bursa (Turkey) including the partner Sadettin Türkün Ortaokulu (Turkey), Clemens-Brentano-Europaschule (Germany) with the support of Studienseminar GHRF Gießen (Germany), as well as several Spanish schools of the La Salle network of schools and the Llor school (Spain) coordinated by the La Salle of the Ramon Llull University.
The University of Salamanca through the GRIAL group will be in charge of carrying out the evaluation of the experience. The study will detect the impact of the pilots on the vocations and perceptions about STEM of the participating students, as well as the change in their perception of inclusion and diversity in the school.