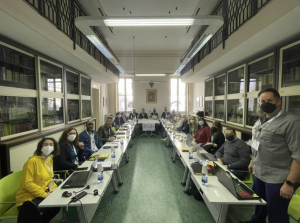 The CreaSTEAM partners have participated in the face-to-face meeting in Rome (Italy) on February 24 and 25, 2022, organized by our partner Federazione Istituti Di Attività Educative (Italy)
The first year has focused on defining the concept of STEAM-Lab and how to implement it in education centers. The STEAM-Labs propose a combination of Medialab, Fab-lab and Userlab adapted to the possibilities of secondary education centers, seeking to create a space that allows promoting STEM vocations (Science, Technology, Engineering and Mathematics) at the same time to work on fostering diversity and inclusion in these areas.
The meeting has allowed knowing how all the partner and associated schools have prepared the STEAM-Lab and implemented projects during the academic year. The pilots are being carried out in four schools of the Federazione Istituti Di Attività Educative (Italy), three educational centers in Bursa (Turkey) including the partner Sadettin Türkün Ortaokulu (Turkey), Clemens-Brentano-Europaschule (Germany) with the support of Studienseminar GHRF Gießen (Germany), as well as several Spanish educational centers of the network of La Salle schools and the Llor school (Spain) coordinated by the La Salle of Ramon Llull University.